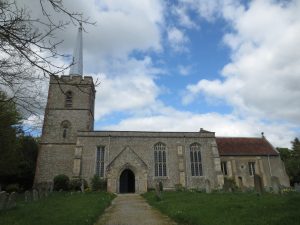 Cottered or St John the Baptist church holds particular significance for the Pulter family.
The baptisms of twelve of Hester and Arthur's fifteen children are listed in the parish register.
Arthur Pulter was patron of three of the church's rectors: Thomas Gardiner, John Gardiner, and John Sykes. In his will he bequeathed £20 to Sykes and £40 to the parish for 'putting out Apprentices'. I plaque detailing the second of these bequests is still visible in the church.
Memorial stones for many members of the family, including the Pulter's daughter Margaret Forester and grandson James Forester, are still visible today. Hester Pulter herself was buried there on April 9th, 1678.
The clock in the belfry was erected by the Arthur and Hester's grandson James Forester as a lasting memorial to his ancestors.